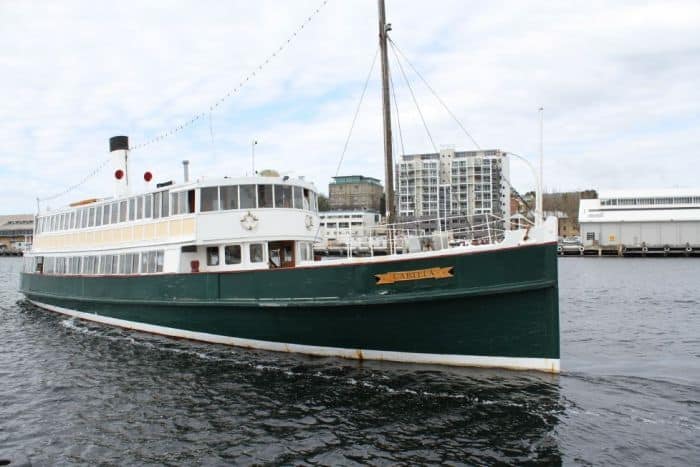 The Cartela (the Tasmanian Aboriginal name for a bull seal) was built in 1912 at Battery Point, Hobart, by Purdon & Featherstone for the Huon Channel and Peninsula Steamship Company Pty. Ltd.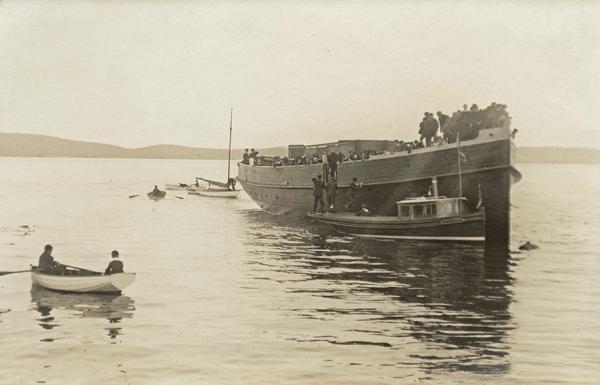 She was designed to operate as a cargo and passenger vessel in the coastal and riverine trades south and south-east of the city. The Cartela was primarily constructed to replace an earlier vessel, the Awittaka, that had recently been sold to the Solomon Islands Government, and she was specially designed to be the fastest vessel in the premier excursion trade. That was achieved by fitting the vessel with a powerful triple-expansion steam engine (500 indicated horsepower (370 kW)), and a large-capacity boiler that allowed lengthy periods of operation at maximum speed without losing pressure – a problem faced by both her predecessor and her chief rival the 152-long-ton (154 t) SS Togo. Cartela and Togo regularly competed in an unofficial race held on Christmas Day until 1931, and both won five races each.
Around southern Tasmania at the turn of the 1900's, most commerce and communication was reliant on estuary and coastal shipping. As the most reliable form of transport a class of small coastal steamer was the preferred method of contact. A class of vessels that was commercial in function, designed for a mix of freight and day passengers. The coastal inshore and estuary waterways provided a number of challenges to the designer of the day. Good freight carrying weighed against the relatively shallow draught needed to service rudimentary rural jetties. Ample power and responsiveness to access difficult jetties in all weathers. A stern design suited for reversing into a steep swell when leaving an exposed quay was identified as a desirable attribute early on. A sea-keeping nature that was reassuring when carrying passengers. And lastly an ability to function reliably in all weather through waters known to challenge the best such as Storm Bay and South-west Tasmania.
In a region that had such a reliance on coastal maritime trade, it was hardly surprising that a racing culture would thrive around these ubiquitous workhorses.
In 1910 the largest of the local domestic shipping lines, the cumbersomely named "Huon, Channel and Peninsular Steam Shipping Company" commissioned a new vessel to be the queen of the fleet. "Awitaka" was launched and was the first to boast electric light, flushing toilets, and was one of the largest of an already large fleet. That same year, a vessel that was already a few years old and had been built for similar trade on the Tamar River relocated to Hobart where her owners believed lay more profitable returns.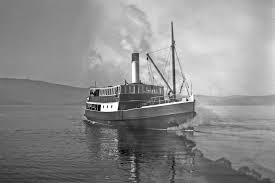 Togo had been designed by Australia's most notable naval architect, Walter Reeks, who by 1909 had already been playing with the idea of stealing the America's cup from the Americans, and so had a very good idea of how to draw a slippery hull. Togo certainly had that. The two vessels faced off on the 1911 Christmas day race and the northern interloper came off the victor. The shame was so great that the brand new "Awitaka" was immediately sold off to the British navy and a new vessel, "Cartela" was commissioned. To be designed by local Tom Purdon and drawn by Alfred Blore, construction to be at Purdon and Featherstone's yard in Battery Point, near Hobart. An identical engine to Awitaka's was ordered from Plenty & Sons in England, but Awitaka's weakness, too little boiler capacity, was addressed by the specification of a massive 11 x 11 foot diameter scotch marine boiler. This was a vessel that was going to be able to maintain boiler pressure at full speed, even if it meant nearly a third of main deck space was lost for carrying cargo. Cartela went on to win the "Cock of the Derwent" in her first attempt Christmas 1913, she went on to win more times than any other vessel, and still holds the record of 3 hours and 5 minutes setting an average speed of over 13 knots.
JOINING THE NAVY.
Conscripted at just 18 (months) in August 1914, Cartela would have her own part to play.
While her paint was still drying, a European prince was assassinated in a country many Australians had never heard of. The turmoil that followed led to the declaration of World War One. Within weeks, representatives of the Defence Department, Royal Australian Navy, requested the keys to Cartela. Leased from the owners on generous terms, Cartela was commissioned as a naval 'E.V.' (Examination Vessel) protecting the port of Hobart. It was her role to enquire "friend or foe?" of all vessels approaching Hobart. Once the threat of German raiders on the Australian coast had been eliminated in 1916, Cartela was returned to her owners.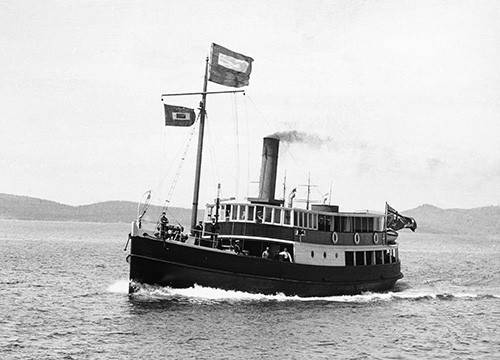 Cartela's naval career in the second conflict was limited to towing targets for artillery practice, but never the less served her country in both wars. However, nationally some owners of vessels acquired for the R.A.N. during WW2 were peeved at the small amount offered for their vessels under lease by the R.A.N. and took the commonwealth to court to get a fairer deal. The lease deal struck for the use of Cartela in WW1, was used as an example by them to successfully strike a better rate.