Many Tasmanians (and others) are lucky to have enjoyed time out on the Cartela. Maybe it was a school picnic at South Arm, a evening cruise on the River Derwent or a school re-union.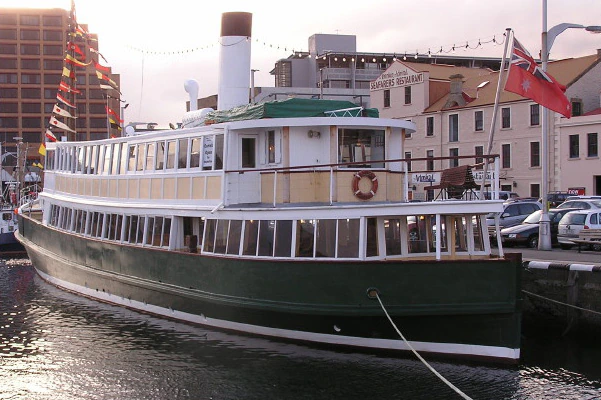 Whatever the trip, many memories were made on Cartela, and we'd like to hear yours.
Please share your Cartela story.
Prefer to record your story, rather than typing? You can record on your smartphone and create a text version – see here for details.
Dancing on the Derwent I was the resident DJ on MV Cartela from 2002 – 2012 and it always amused me how people started dancing very conservatively in the early stages of the evening but as the night wore on and they had consumed more alcohol their dancing or rather their attempts at dancing got progressively worse or more outlandish.
Usually the bolder ones would come and request either the latest music or the old standby faves like Bryan Ferry "Lets Stick Together" or The "Grease Megamix".
Weddings were the hardest functions to do because there was a huge age range, and if you played fifties for the parents who filled the floor you got requests from the newlyweds for more modern music.
This was usually when the parents were really enjoying themselves on the dance floor and usually filled it. The meal was usually served upstairs and this is where the speeches were held.
The hardest part was getting the guests off the boat when we docked, so the trick was to play the worst tracks that I could find that people could not dance to, or hated.
The best one was Vera Lynn "Wish me luck as you wave me Goodbye".
That usually did the trick.
Ed: Thanks to Tim Kingston for sharing his Cartela Story. Tim is now a presenter on Hobart Radio 96.1 FM and can be heard from 6 – 9am on Saturday mornings.
Mutton Birding on Wedge Island It's getting a bit vague now, but about 65 years ago at the start of the mutton bird season, we'd leave at daybreak on the Cartela from a Hobart wharf. We went to Wedge Island off Nubeena on the Tasman Peninsula. Cartela anchored and everyone rowed ashore. We cleaned the birds on the stern coming home. I vividly remember a trip going through Storm Bay – the sea was huge breaking windows on the Cartela then unable to put us ashore at the island. This was maybe about 1955-56. John R